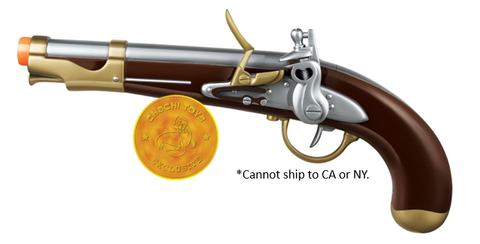 Buzz Bee Toys Pirate Flintlock Foam Dart Blaster
Arrr, matey! Ye be lookin for somethin t'defend yerself from seadogs? Well, this flintlock be yer salvation on the seven seas! With flintlock hammer action, ye can blast all the raiders and looters in yer wake. Compatible with darts from most major brands, including Nerf. Buzz Bee dart refills also available.
Due to state restrictions this item cannot ship to New York or California. All orders shipped into the state of New York or California will be canceled.  Please don't even ask.  It just gets awkward for both of us.
Easy Loading!
Pull back hammer!
Includes 5 darts.
For ages 6 and up.
This product is restricted from shipment into the states of New York and California
---
We Also Recommend
---