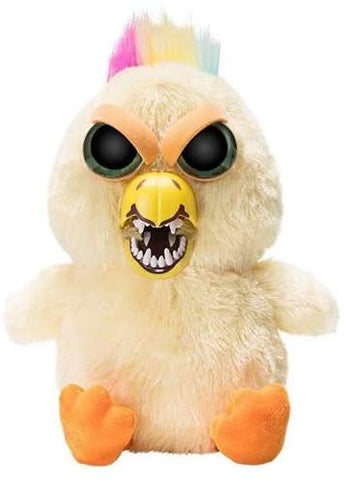 Feisty Pets Treacherous Travis the Rainbow Chick *EXCLUSIVE*
Treacherous Travis the Rainbow Chick! 
He's soft and cute, but he'll turn on you if you squeeze him! Travis is often found nesting in baskets filled with green plastic grass. He can be a sweet chick, but be warned, he is very possessive of items in his nest. Any attempt to reach in and grab a plastic egg or candy will most definitely result in an all-out attack. 
!
Feisty Pets are a line of plush animals with "stuffed attitude"! Each pet changes expression from cute to 'feisty' when you gently squeeze it behind the ears. No batteries or extras necessary. Captivate and entertain any audience, young or old with these unique and animated animals! They're great to cuddle and play with, but are also perfect for a hilarious and innocent prank on friends and family!
Treacherous Travis
Likes:
Waffles
Pink bunnies
Tulips


 

Dislikes:
Powdered sugar
Neon lights
Purple grass
---
We Also Recommend
---